Gas Leaks, Shut-Offs, and Gas Line Repairs & Installations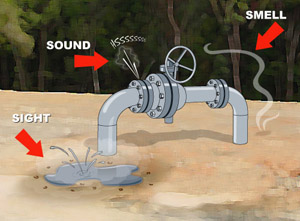 Koen Plumbing specializes in gas leaks, shut-offs, gas line repairs and installations – so, if you smell gas, don't panic, just give us a call.
We provide practically every type of Dallas gas leak service, so you don't have to worry about complicated repairs and installations. The gas distribution system in your home includes a maze of appliances, fixtures, meters, pipes and valves that could begin to leak from time to time. Whatever kind of gas leak problems you have, we've got your solution—from repair to replacement if necessary.
Expert Repairs for Gas Leaks Realted Issues…
Koen Plumbing offers Dallas gas leak detection services with experts in your area. We have fully stocked trucks ready to serve you in no time. We can quickly and efficiently detect the source of a leak and do whatever repairs or installations necessary to have your system in perfect working order once again. And, our friendly service staff are happy to provide immediate answers, advice and instructions regarding your Dallas gas leak problems over the phone while you wait for a technician to arrive.
Every technician and staff member you encounter at Koen Plumbing will provide the kind of friendly, neat, patient and thorough service you would expect from a family owned business with over a half-century of experience. We've helped hundreds if not thousands of your neighbors with everything from Dallas gas leak service to plumbing maintenance to appliance installation and everything else in between. If you need help with installations of gas line or repairs, Koen Plumbing will secure city permits on your behalf, so we can get on with the project without wasting any of your time.
Call Koen Plumbing 24 hours a day for fast and friendly service. We specialize in Dallas gas leak detection and so much more!
We're here to help.