KOEN – Your Dallas Metro Plumbing Leak Detection and Repair Experts
Do you have a dripping faucet or leaking pipes? Is the water gushing and you need a plumber NOW?
Call Koen Plumbing! We have a plumbing expert in your neighborhood with a fully stocked truck ready to get in there and fix your leak FAST.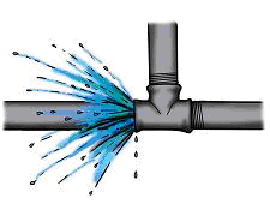 Why Koen for Leaks?
All over Dallas, water leak detection and repair is our specialty. Whether you have a small problem or a huge water leak emergency, we're here to help. Our Dallas water leaks repair experts are prepared to tackle any plumbing situation as quickly and efficiently as possible. Some leaks are so severe every second counts, and even a small leak can quickly turn into a huge mess with one wrong twist or turn. We understand how to find leaks and fix them fast, saving you the hassle of trying to fix it yourself and risk making things worse. Call Koen and we're on it!
Show us a drip, and we'll show you a leak detection solution fast
We Promise to Take Your Situation Very Seriously.
Our Dallas water leaks detection and repair services don't come with scheduling games, four-hour windows or unprepared technicians. When you call us any time of day or night, we'll be prepared to send a friendly and professional technician to your home immediately with all the equipment to take care of the job, however big or small.