Professional Installation, Repair and Service For Dallas Tankless Water Heaters
We sell and install these dependable brands of tankless water heaters:



Tankless Water Heaters Just Make Sense.
Get 10% off our ultra-affordable rates… up to $100… just for telling us you found our website!
That could be a savings of up to 30% off your new tankless system up to $1500!
Act now…These deal might not be around in 2015.
They eliminate wasted energy, they save you money and they ensure you have all of the hot water you need – when you need it.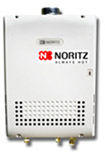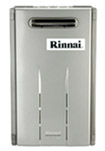 Did You Know?
Tankless water heaters installation makes sense for many reasons.
Call us today, and you can get an extra 10% off the price of a new tankless water heater just for telling us you looked at this Web site! That could save you $100 off your purchase, but the savings don't end there.
A standard hot water heater wastes energy, which is bad for the environment and bad for your pocketbook. Since heating takes up the biggest chunk of the average utility bill, why not install an energy efficient model?
Standard water heaters are always working, whether you're using hot water or not. With a tankless water heater installation you can begin using hot water more efficiently. Your new water heater only runs when you need it. Plus, there's no tank to heat, cool or fill, which saves even more energy and money!
You may even be able to qualify for a big tax credit from the government—as much as $1,500 on certain energy efficient models! You can also count on Koen for all your tankless water heater repair needs in the future, whichever model you choose. Chances are that you probably won't be needing repairs any time soon, but we'll be there for you if and when you do!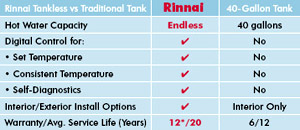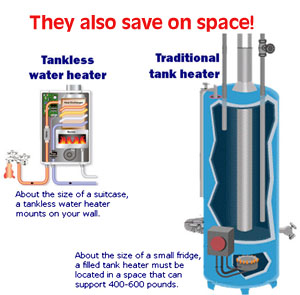 Here are some of the benefits of tankless water heaters installation:
Better for the environment
Constant supply of hot water
Federal tax credits
Increased efficiency
Longer life span
Longer warranties
Saves space
Up to 60% savings on water heating bills
Call Koen Plumbing today, and we'll help you decide if a new tankless water heater is right for you. We also offer tankless water heater repair 24 hours a day, seven days a week.
Worth The Investment?
Federal Tax Credits for Energy Efficiency

Save up to 60% on your water heating bills
Reduce energy usage – good for the environment
Always have hot water ready to go, never run out.
Receive $1500 Tax Credit/Refund from the US Government on some models
Tankless water heaters are smaller in size so it does not take up space.
Increase efficency and eliminate virtually all standby-losses.
Tankless water heaters have longer life span and can live up to 20 years, compared to 10 to 15 years for tank units.
Longer warranties for tankless water heaters.
Call today for help deciding when is the right time for your home…